HIGHLIGHTS
24-MP CMOS full-frame sensor
Slots for two SD cards
New "L" lens mount with three lenses announced
Adapters for four Leica lens systems. Can use T system lenses without an adapter
Leica has added to the intrigue of photography's mirrorless segment with a new camera that is intended to make you forget about the Sony A7 series.
The Leica SL is a full-frame offering with a 24-MP CMOS sensor that has a sensitivity range of 50-50,000. The CMOS does not include a low-pass filter, and files are recorded either in JPG or DNG.
Its Maestro II image processor helps the camera record 11 frames per second, and Leica claims the SL's autofocus is faster than professional DSLRs. The shutter speed range runs from 60 seconds to 1/8,000.
Leica says it has built the camera to stand up to the physical demands of professional photographers.
Leica has built this camera with compatibility in mind, offering adapters for various Leica mount lenses: M, S, R and Cinema optics. There is no adapter for screw-mount lenses, which isn't a huge surprise when you consider that it hasn't made such a lens in more than 50 years and none in the digital era.
By the way, Leica has created the L mount for the SL, which also can accept lenses from the T system, which uses an APS-C-sized sensor. The T lenses are mechanically and electronically compatible with the SL, and when attached, veiwfinder automatically adjusts. With the T lenses, there is a 1.2X crop factor.
One notable feature of the SL is the absence of markings for nearly all  buttons, switches, knobs and dials, except for the power switch. While minimalism is to be applauded, it also means the photographer will have to memorize the location and function of each of the buttons, knobs, dials and switches.
The SL can record movies in either the MP4 or MOV file formats. No clip can be longer than 29 minutes or 4GB.
Photographers can compose their photos using Live View or the fixed touch-enabled 2.95-inch monitor or the electronic viewfinder that offers 97% frame coverage. The EVF has an eye sensor to turn it on. The switch that sits to the left of the viewfinder and is marked "On" and "Off" doesn't control the viewfinder, as you might expect. It's the camera's power switch.
There are two SD memory card slots. Slot 1 offers 100MB/second write speed while Slot 2's write speed is 30MB/second. The camera can be configured to write to both cards simultaneously or sequentially with Slot 1 being used until the card is full at which time the SL automatically switches to Slot 2.
The battery charger requires a cord, rather than the flip-up plugs that are becoming more prevalent today.
The SL does not have an on-board flash, although it does provide a hot shoe. The flash-synchronization speed is 1/250.
Leica offers a multi-purpose adapter that allows the photographer to connect either a microphone or headphone, and there are built-in connectors for HDMI Type A and USB 3.0.
The SL comes with software for USB and WiFi remote control, Leica Image Shuttle SL and Android and iOS apps to allow the photographer to connect to the camera. Also in the box is a camera strap, body cap, battery, battery charger with international adapter, USB 3.0-cable, manual, warranty card, Leica lens cleaning tissue
The SL body's dimensions are 5.7 x 4.1 x 1.5 inches (147 × 104 × 39mm) and weighs 29.9 ounces (847 grams). The 24-90 Vario-Elmarit is 5.4 inches long (138mm) without the lens hood, and 3.5 inches wide (88mm) and weighs 40 ounces (1,140 grams).
The total weight of the SL with the 24-90 Vario-Elmarit is about 4.4 pounds (1,987 grams).
An accessory handgrip will allow an additional battery to be used.

Leica SL with its three lenses. From left, 25-90mm Vario-Elmarit, 90-280 Vario-Elmarit, 50mm Summilux.
Three SL-mount lenses have been announced, although only one will be available when the camera begins shipping in November 2015.
Vario-Elmarit-SL f/2.8-4 24–90mm ASPH (available) – Composed of 18 elements in six moving groups, including four aspherical elements and 11 made from glasses with anomalous partial dispersion for the minimization of chromatic aberrations. Just one of the 18 elements is moved to focus the lens.
APO-Vario-Elmarit-SL f/2.8-4 90–280mm (mid 2016) – Using 23 elements in seven moving groups, seven are made from glasses with anomalous partial dispersion for the minimization of chromatic aberrations. Two focusing elements are moved via newly developed drive concept with linear positioning of the lenses by stepping motors. The overall length of the lens does not change when either focusing or zooming.
Summilux-SL f/1.4 50mm ASPH (late 2016) – No data available for this lens, which will use internal focusing.
What will this cost you?
Body – US$7,450
Lens – Vario-Elmarit-SL f/2.8-4 24-90mm ASPH: US$4,950, lens hood: US$255
Leica SF 64 flash: US$745
HDMI A cable: US$205
USB 3.0 Micro B cable: US$95
The power switch appears to be the only marked button, knob, dial or switch.

An eye sensor activates the EVF.

The top deck's discrete information display uses Leica's typefaces.

A look at the full-frame 24-MP CMOS sensor.

The Leica SL with the accessory grip attached.

Leica will offer mount adapters for its other lens systems.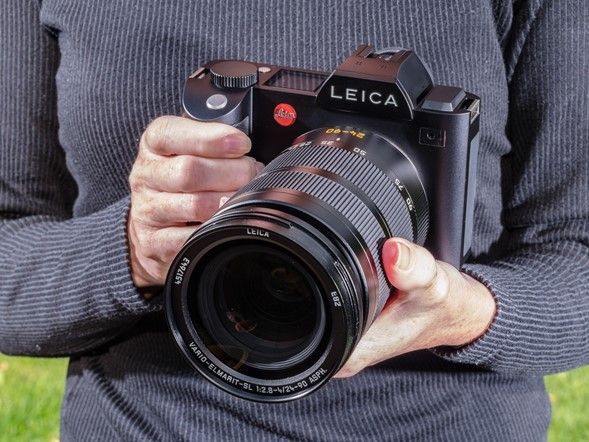 This is a large camera, as you can see in this photo.
►Watch Leica's promotional video on Vimeo